Nashville is one of my favorite places. There's so much culture, and the live music, shopping and food are just about all top shelf. Quite a few of you mentioned you'll be traveling there soon, so I figured I'd do a rundown of my favorite spots!
Places to Stay:
Coffee / Sweet Treats:
Jeni's Ice cream: Quintessential Nashville spot. You just gotta go.
Elixir: This is a beautiful coffee shop with a little bit of an elevated modern feel.
Frothy Monkey: Amazing little coffee place. Their Golden Monkey turmeric latte is 👌🏼!
Sump Coffee: If you are a coffee connoisseur this is more gonna be the vibe!) — this is more of a Cort spot.
Cafe at Bobby (good coffee and good cafe!)
Brunch / Lunch / Snacks:
Ella's: Love this spot for a good morning cocktail with a locally sourced menu in a light and airy dining room.
60 Vines: This is the a great family-style dining experience. You'll find pizzas, pastas, cheeseboards, and more in a fun, casual setting.
Restoration Hardware Cafe: It's always a great go-to for beautiful pictures and some light fare. Love this spot!
Dinner Eats:
Geist: This place was rated one of the most beautiful settings to eat in the US. It's got a romantic, beautiful vibe and they serve the most amazing homemade pasta. Don't forget to try the panna cotta for dessert.
Sadies: If you like Mediterranean food, oh my goodness this is your spot. The falafel here is AMAZING and everything else on the menu too. Favorite appetizer was definitely the whipped feta.
Hampton Social: Just yum.
Stateside Kitchen: Love that this place uses all seasonal cuisine in a really intelligent, Gehry-esque glass atrium setting.

 

Liberty Commons: If you're looking for a more casual dinner spot, this place is a hip cafe that serves burgers, hot chicken and frozen cocktails all day long.
Pinewood Social: Housed in an industrial-chic setting, this place is a great spot for an all-American meal. Bonus— you can bowl there too!

 

Barcelona: This is a great spot for small plates/tapas! It's so delicious and I love the setting.
Pearl Diver: This is a Tiki-style bar. Maybe not prime for dinner, but if you're looking for something light with great apps… this is the place.
Shopping: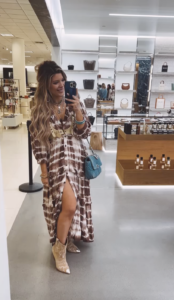 Most of my favorite places are at 5th and Broadway. If you route your Uber to that spot, you'll find hours worth of shopping in an outdoor mall-style setting. It has a great mix of go-to shops and unique boutiques and Nashville originals.

 

Daniel X Diamond: You might have seen me wearing his signature rhinestone fringe jackets… I have a little bit of an obsession with all thignAppointment only.
Uncommon James: I looooove Uncommon James jewelry! They have the sweetest shop too. Definitely a frequent stop for me.
Hero (12 South): Such a cute boutique. Definitely bit more on the speedy side, but their hats, belts and accessories have an authentic old Nashville vibe.
Green Mills Mall: If it's raining and you need an indoor hang, this mall has everything. I love a good mall with all the shops.

 
Night Life: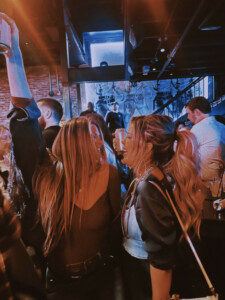 Casa Nova: This is Miranda Lambert's club and it's by far my favorite. If you're looking for a spot with a good vibe and great live music, this is the place.

 

Sinema: One of my favorites!! We didn't get there this past week, but it's an ollllld 1940's theatre that was remodeled but kept the old charm. The drinks and vibes are AMAZING!
Pushing Daisies: This spot is at the start of Broadway and a bit newer, but a great spot for a margarita (more Tequila themed) before hitting the Broadway scene. It's so, so chill and nice. More like a speakeasy inside.
Patterson House: OK this is a true speakeasy! Great place to go for good drinks and good convos (not a party vibe). More like a place Cort would love.
The Fox Bar & Cocktail Club: This is a super small and intimate speakeasy, but the food is out of this world! Another spot Cort and I like to go for a date when we're in Nash.
Other great bars to pop in while you're on Broadway:

Tootsies
Chopper Tiki Bar
Whiskey Row
Honkey Tonk Central
And I would be remiss if I didn't leave you with a little style inspo for your trip… check out my Nashville highlight on IG here! Lots of ideas and links there.
Hope that helps! Would love to hear any of your favorite places as well. Feel free to share in the comments!
xoxo, cassidy