My hair has always been wildly curly-hence, my childhood name being "Shirley Temple" but I was always able to straighten or curl it the way I wanted to—I know I know, some people would kill for natural curls. The main focus of my hair journey can really be isolated back to my postpartum days after having my daughter. I have never experienced hair trauma or loss as I had in those months following giving birth. I had heavy bald patches near my temples and an absurd amount of breakage and hair loss all over. I was devastated. Not to say that I didn't feel like myself, but I always had grown up being told long and beautiful hair is what was the beauty standard.
I knew something had to change and I started researching everything I could do to get my hair to bounce back. Unfortunately, there is no magic cure that will happen overnight. It takes a lot of patience, time and diligence to work and coax your body back into a healthy state for hair growth. Please also know that in no way am I a professional or claim to be.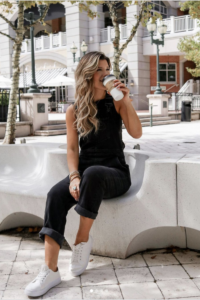 I am just sharing what has worked with me and how I amable to move forward. I always, ALWAYS recommend reaching out to your doctor about any concerns you may have to ensure there are not other
underlying health conditions. The priority is your health first!
I started by making little switches to my routines. I added in a good supplement to my vitamins (I've been taking Ritual vitamins for years), adding more leafy greens to my diet, doing a green protein drink in the mornings, switching my showerhead to a filtered system to cut out the harsh water chemicals, putting on silk pillowcases to help prevent further damage. The list can go on and on—which I will list out fully below.
Healthy and Balanced Diet… always think of sticking close to the garden!
Vitamins. You never realize how much extra support our body needs. I highly recommend checking out Ritual on my website for additional details.
Shower Head Filter. This is life-changing and super important for hair growth. I didn't realize how harsh and heavy some water can be for your hair until I did some research. This shower filter is fantastic and available on Amazon!
Hair Products. I found what really worked for me. I invested in buying higher end products that would go back into nourishing my hair instead of stripping them. Check out my LTK for recommended hair products.
Hair Accessories. You have to choose accessories to use that don't tear or damage your hair. It starts with good

hair ties

and scrunchies! I've also found these

claw clips

are good ones for mitigating damage. 
Silk Pillowcases. This one is huge that so many people don't realize! Our hair can get pulled and tugged from harsh fabrics while we sleep. Switching to silk can drastically improve your hair health over time. I recommend

this one

by Kitsch.
Less Heat. This one seems so difficult because I style my hair a lot but you can do it! I give my hair enough time to dry to about 80% before I dry it and then I make sure I don't have my heat settings too high for styling tools. This is also a huge one — NEVER FORGET YOUR HEAT PROTECTANT — your hair will thank me later.
Extensions. This one can be so controversial for people. Yes, I know it's not realistic for everyone, but it worked for me because it allowed me to have confidence back in my hair while it was growing. I currently have hand tied extensions, though I have tried them all (at least it feels like it!) That being said, please do your research and find a reputable salon that does a well placed extension. These can be very damaging, and you don't want to reverse any good progress you've already made in search for luscious locks. Check out clip in or a halo extension as well!
All of this to say is that there is no one magic trick to make your hair grow six inches overnight. Lucy is four and I am STILL battling to get my hair back to the way it should be. Remember to be kind of yourself and have patience with your body in whatever journey you're on because in the end it will be worth it and our body can only do so much with what we give it.
xoxo, cassidy