I have gone back and forth on what my first blog post would be. Should it be an introduction? A full breakdown of my story? Talk about hair, fashion, being a mom? I'm currently sitting on the Coronado Beach in front of the Hotel Del – the same spot I seem to end up at for all my major life moments, and for all my big life decisions. Seems fitting I would get struck with my first blog post idea right on the spot that's changed my life multiple times. So I am simply going to share one story in this first blogpost. It's a story really up until this moment, no one knows about.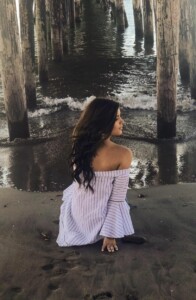 I spent 8 years living in Lynchburg VA. I had JUST started a new chapter. Divorce proceedings had started. I got my own one bedroom apartment. I had a new job I was enjoying. My friendships were all in the burg. On the outside things were good! However, the ghost of my past was EVERYWHERE. I couldn't go to the local Walmart without haunted memories. I couldn't go out to one of the few bars or restaurants with my friends without running into my ex husband or his friends. The town I had come to love felt like it was getting smaller and smaller. Lynchburg was all I had and truly I was scared to go anywhere else. I had dreams of NYC to live out my Carrie Bradshaw dreams, but no guts to make that move. I had always wanted to live near a beach, the waves, sand, and sun have a way of calming my soul that no where else can – but my bubble was so strong I couldn't imagine starting over.
Cort entered the picture. This handsome guy, with kind eyes. Seems weird, but the first thing I noticed about Cort was his kind eyes. He proved to be a Prince Charming in so many ways, but I won'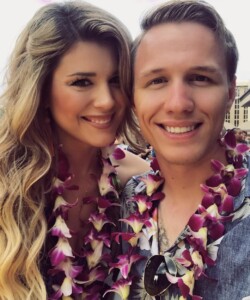 t bore you with the mushy gushy details. I got to visit him a few times in San Diego, since that's where he was stationed, and it was a DREAM. It was on the Coronado beach that Cort told me he loved me for the first time and asked me not to leave. He wanted me to permanently move to San Diego. This is where my fairy tale secret romance came to a very scary realization. To be with Cort, meant starting over. Meant moving across country. Leaving everything I knew. Everything I found comfortable. Fun fact – Cort was also getting ready for a deployment. I would move only to say goodbye and start over without him.
I went back to Lynchburg very unsettled. Everything in me wanted to be with Cort. Every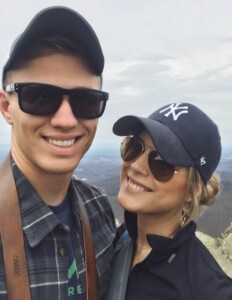 thing in me was TERRIFIED. I knew one thing for sure, if I was going to move only for Cort to leave – I needed to be sure I didn't just love San Diego because Cort was there. I had to love it with just me there. Cort had a quick trip lined up (something military) and that was when I booked my ticket. I needed to go to San Diego without anyone knowing, including Cort. I needed to know I could be there alone and be ok. I needed to know that if Cort and I didn't w
ork out – I would still be able to be happy in my new home.
This is where I should also add that up to this point I couldn't even go to a restaurant alone. Traveling alone was intimidating to say the least. I pushed those fears aside. Booked the ticket. Drove to Maryland through the night (Baltimore airport was the only ticket I could afford) and got on the dang plane. I spent the next 2 days walking around Coronado. Exploring San Diego. Overcoming fear after fear of just being with myself. That trip turned out to be one of the most amazing and monumental moments of my life. A true core memory.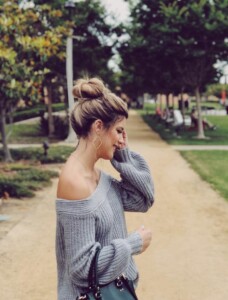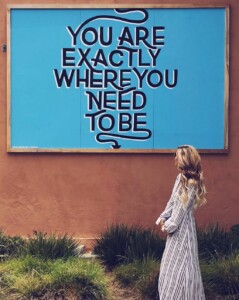 I felt myself forgiving those I had been holding ugly grudges against. I found a deep peace that I was enough and I could do anything I set my mind to. It seems so silly, but taking that one step. Getting on that airplane. It flipped a switch in me. I was sitting on this beach in Coronado, listening to these waves, doing the pros and cons game when I made the very firm decision – it was time to move.
I went home. Sold everything I owned. Packed my car. Started my drive across country. From that moment on the beach on – nothing was ever the same.
The moral of this long drawn out story (I told you – I like to write and I am a chronic over-sharer) is to take that first step. Whatever that dream is you have. Whatever that thing holding you back is. WHATEVER you are stopping yourself from because of fear. Just take that first step. I didn't have a single thing figured out when I booked that plane ticket, but I knew it was a small step in the right direction. They say to eat an elephant you gotta start one bite at a time. I never got that saying till I had to take my first bite. Stop looking at the whole picture. Stop picturing all the worst case scenarios. Stop doubting yourself. Stop focusing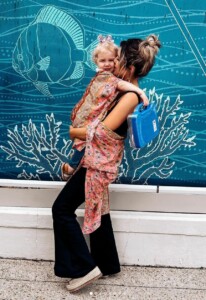 on the end result instead the first moment. Just take that first step and see what happens. You may just find yourself again. You may only end up with a story to tell your kids later. OR you may just find your dream and get to live it.
I had a dream to be the next Carrie Bradshaw, while I will NEVER be her, mostly because I personally think I have better taste in men 😉 I am taking the first bite. I love fashion, hair and beauty. I love a good sale. I love putting an outfit together for an event. Aannnnddddd I don't think anyone wants to read about those things. I think those who read, want to find encouragement. Want to find the first PUSH to just do what their brain has been telling them they can't. That's where me and this blog come in. I can share all my inner thoughts to hopefully encourage one person.
Hope you stick around and enjoy. ♥️
xoxo, cassidy