Nothing boosts my mood quite like a tan. If you're feeling down and blah, apply some self-tanner and–voilà–instant mood enhancer. It's like a ray of sunshine. But not. Because the actual sun, as we all know, is pretty damaging to our skin. Yep, that was cheesy and I liked it. 😂
I've tried so many tanning products over the years, with results ranging from disastrous to dazzling. The self-tanner industry has come a LONG way since I was in high school, but it still pays to be careful in what product you use and how you apply it. Let's just say the margin for error is slightly smaller than some other beauty products out there!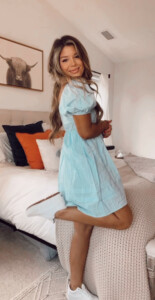 I have used the Bronzed Cactus brand for several years now, and it's my favorite by far. It's a mousse with a guide in it to help you see where you've applied it, and I've found that that type of formula is the best for the most seamless at-home application. (Code CASSIDY20 is always active and can be used time and time again for 20% off your orders.) I tan once a week (usually on Fridays), unless I have an event. One bottle usually lasts me 8-10 uses, so about 2 months.
I usually apply my tanner in the morning and allow it to develop throughout the day. The Bronzed Cactus tanner takes about 8 hours for color to fully develop, but be sure to read the instructions for whatever product you're using. Of course if you prefer, you can apply at night too. Just be sure to wear lose, dark clothing, as the guide may come off while you sleep.
Here are the steps to my routine:
Shave.

Exfoliate dry spots, focusing on the elbows, knees, wrists, and ankles. Always make sure your old tan is completely removed for the most even reapplication. The

exfoliating mitt from Bronzed Cactus

is absolutely amazing. For stubborn spots, combine the mitt with

this Necessaire scrub

.

Moisturize the dry areas listed above

only

. Do not apply lotion to your entire body as it will prevent the tanner from taking properly.

Apply tanner using an application mitt (I like

this one

).

The most common question I get is how do I do my back? Answer: I usually recruit Cort into helping me, but when he's not home, I use

this applicator

.

There is a

bundle option

available that includes the exfoliating mitt, application mitt, and back applicator (this is the best deal!).

Leave your hands, neck, and feet for last. Put a pump of tanner on a

Kabuki Brush

and blend/buff into these area 

Apply a drying powder to your body using a

giant fluffy brush

. 

For my face, I do a couple drops of

tanning glow drops

into my normal facial moisturizer. I usually need to reapply every 3-ish days because my skincare removes it faster. 

Allow 8 hours for the color to develop and rinse off in the shower before hopping into bed for the night. I will apply a full body moisturizer at this point after rinsing. If you're doing this routine overnight, apply the tanner before bed and rinse off in the morning, following up with moisturizer. As I said above, if you're sleeping in your tanner, wear loose, dark clothing in case the guide comes off.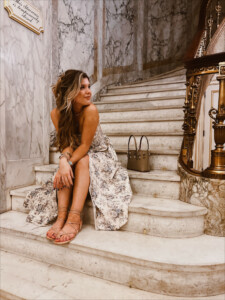 Preserving your tan
It takes a little effort to apply a tan well obviously, so it's worth it to me to make it last as long as possible. Here are a few tips!
Use a body wash without harsh sulfates or parabens. I love

Necessaire's The Body Wash

personally, and here are a couple more affordable options that are still recommended often by tanning companies as safe:

Native Natural Body Wash

and

Hempz Triple Moisture Herbal Whipped Creme Body Wash

Use a body lotion that does not contain mineral oil or parabens. Moisturize daily. My fav is

Necessaire's The Body Lotion

. And a couple affordable options include:

Native Body Lotion

and

Hempz Body Lotion

.

Try not to shave everyday. Shaving will exfoliate your tan off. If you wax, let your skin settle for at least 24 hours before tanning.

Pools, baths, and beaches will fade your tan. There is no way around this for any tanner on the market since it just stains your skin cells that naturally shed off daily. I highly recommend packing your tanner on these types of trips. Pro tip: Always double bag in ziplock bags in case of leaks!
Happy tanning, friends!
xoxo, cassidy